"The world is a book and those who do not travel read only one page." – St. Augustine
Saturday, July 9, 2011
I'm a vagabond of the air.
Flying signifies freedom.
In flying I see no borders only horizon!
Thursday, July 7, 2011
Freedom on the open road!
There is nothing quite like the experience of driving from east to west across our breathtaking country. Many individuals may never take the opportunity to travel at a snail's pace from one state to another for a number of reasons, and I'm here to tell you it is a big mistake if you don't. Throw out the excuse that it's not a priority to see everything in between because truth is, life is about discovery, and you will be pleasantly surprised by the enjoyment you'll have from the unexpected experiences. Stomp on the notion that there just isn't enough time in your schedule: what happens if your life is cut shorter than you think - have you done and seen all the things you really wanted to - or did you allow the dull-drums of everyday life fog your vision and cloud your spirit? Well, if that's the case - tell those clouds to be gone! And surely you know better than to think that the destination is important but not the journey. The journey is in fact a 'destination' and the memories you'll cherish will include the adventures you found and created along the way! Now I'd like to share one such journey of mine...
On a lovely September morning in Michigan we hit the road. We departed Detroit on the 94 West headed to Chicago. We stayed in Chicago for 2 nights. The first night we went out on the town - headed down to the action packed area of North Rush Street. We dined at Carmine's for dinner and then stopped in a few places for drinks, live music, and dancing. The next day we tooled around Chicago - visited Millennium Park and "The Bean", had a leisurely lunch, and rode bikes around the infamous Lake Shore Drive. The second night we laid low and caught up on some rest so we could head out bright and early the next morning. Chicago was fabulous however we had our sights set on unchartered territory neither one of us had experienced.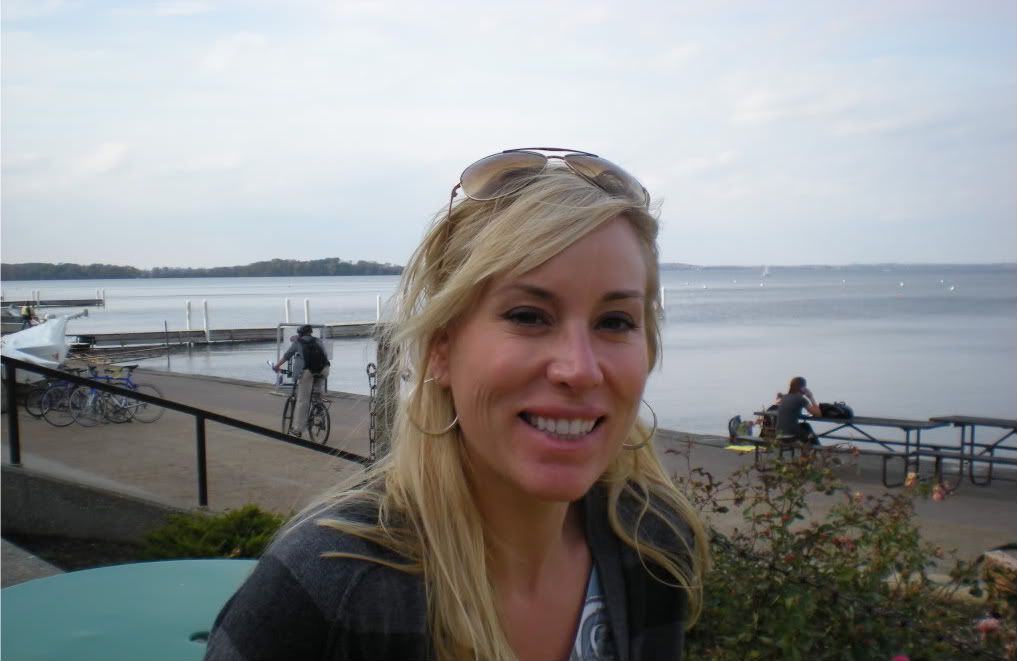 Early on the third morning we drove out of Chicago on the 90 / 39 towards Madison, Wisconsin - we spent the afternoon in the town of Madison, on the campus of The University of Wisconsin - Madison, and at the lakefront area of Lake Mendota and Lake Monona. Wisconsin is a wonderful place and the people were so warm and friendly. I have to admit, unless I drove right through it I am sure I would not have had a chance to visit this area as it just wouldn't have been one of my priorities... now do you see what I mean about the importance of the journey and the unexpected surprises!?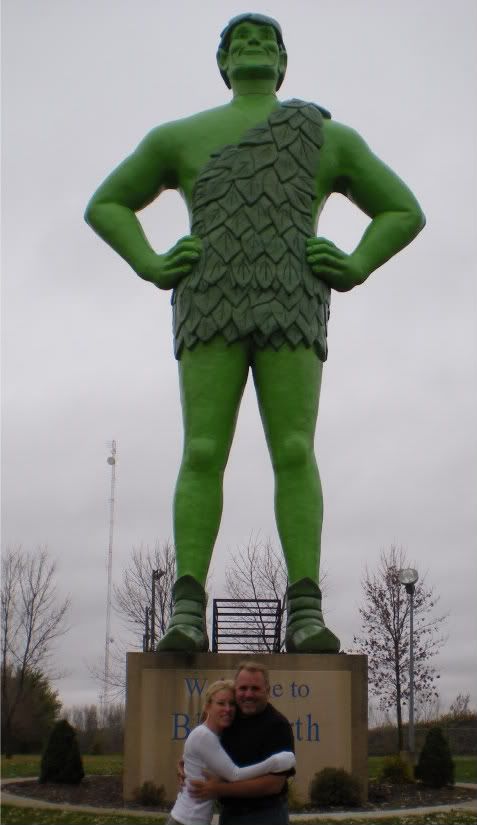 55' Jolly Green Giant
Towards the late afternoon we hopped back in the car and continued on the 90 West to Onalaska, Wisconsin. We checked into a hotel and then decided to venture out to see what Onalaska was all about. We had a fabulous mexican dinner at a place called Manny's Cocina - who would have ever thought the best Mexican dinner I've ever had would be in Onalaska, Wisconsin - highly recommended if you ever find yourself in this part of the country! Upon filling our bellies and catching some zz's we began the next day fresh and eager to hit the road progressing westward. But, not before visiting the 55 foot tall Jolly Green Giant in Blue Earth, Minnesota. Now that's exciting! LOL! It made me want to sing the jingle we all know, "Jollllyyy Greeennnn Giannnttt!" Supposedly, Blue Earth, Minnesota is also the birthplace of the ice cream sandwich. Who would have thunk it?!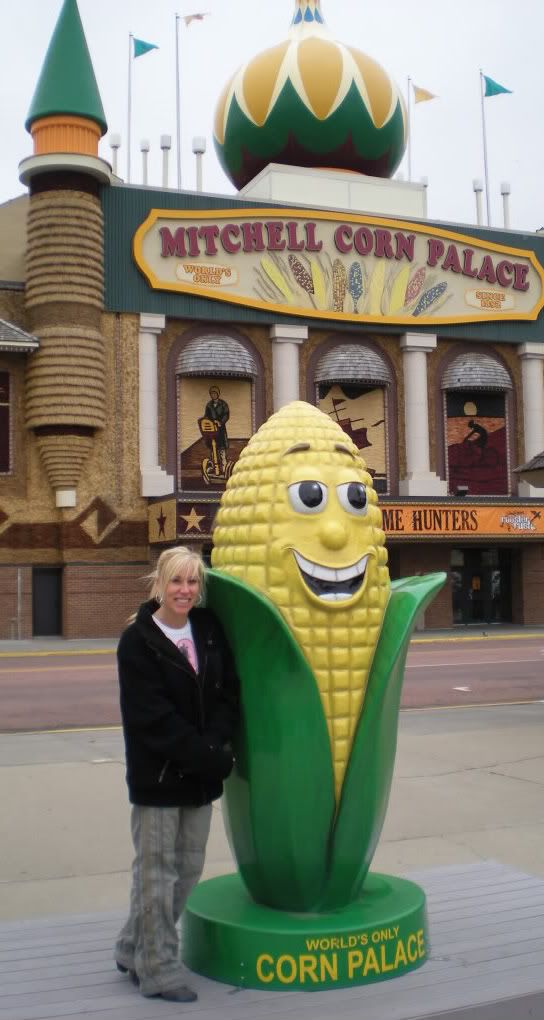 Mitchell Corn Palace in SD
By late morning we were well on our way - travelling on the 90 West all day to Rapid City, South Dakota. The trek across South Dakota was long, flat, and sparse, except for all the corn and ethanol plants lining the desolate highway. We did stumble upon two worthy sites to stop off and visit - the world's only Corn Palace in Mitchell, South Dakota and South Dakota's Original 1880 Town. Let me tell you about the Corn Palace... !! What a weird place. First off, after all the road signs for miles and miles telling us to be sure to visit the Corn Palace ahead - I envisioned we would see something more like Buckingham Palace but maybe made out of corn?! Not sure really, but, in reality it was literally just a gymnasium that had corn attached to the facade to give it the illusion it was a "Corn Palace"! Ha Ha!!!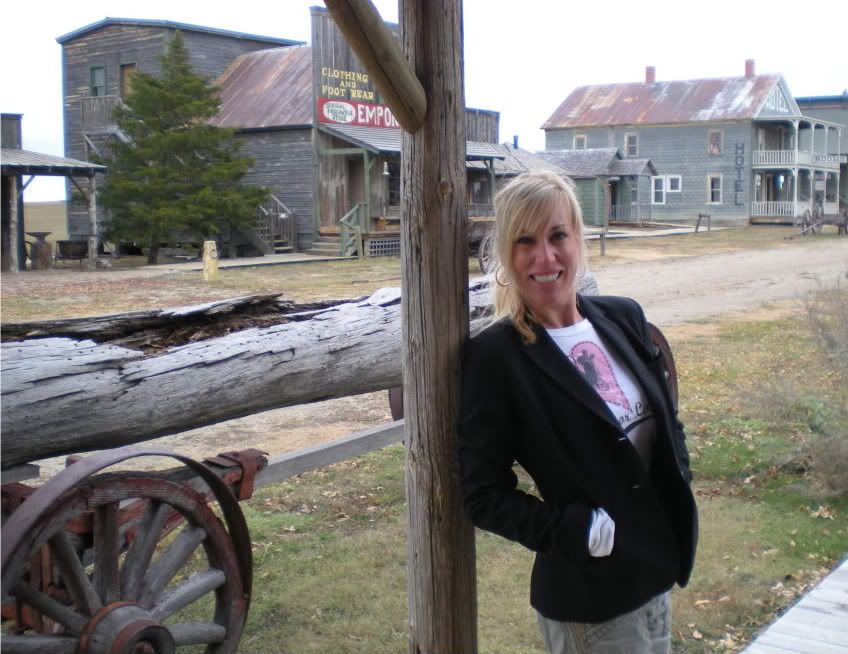 1880 Town in SD
Thank goodness 1880 Town was a bit more worthy of our time. 1880 Town replicates an authentic 1880 to 1920 era town from buildings to contents. The best part of all - most of the props that were used to make the movie 'Dances With Wolves' was what made-up the majority of 1880 Town. I have always loved that movie and so seeing much of what went into setting the scenes was really cool! After making a quick exit from the Corn Palace and spending more time than allotted at 1880 Town we only had enough steam left to make it to Rapid City, South Dakota for the night. Falling asleep with thoughts of era's past on my mind I was appreciative of my journey thus far.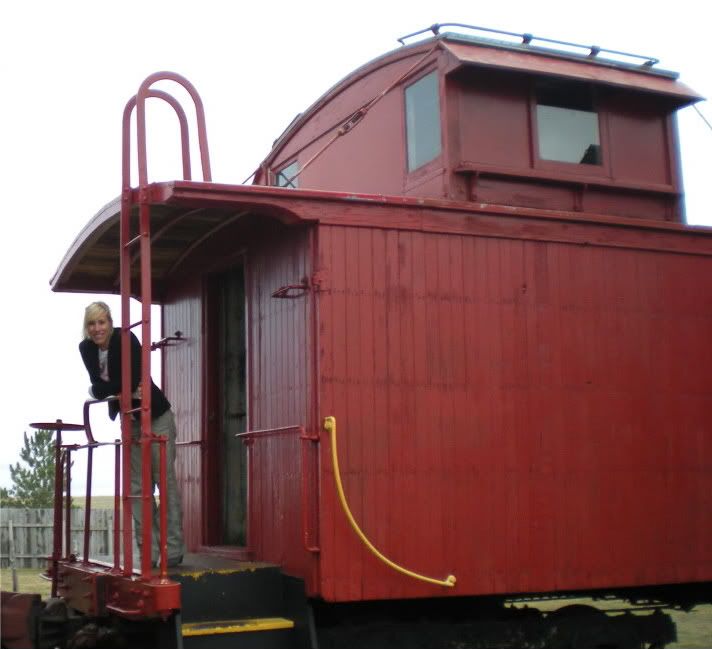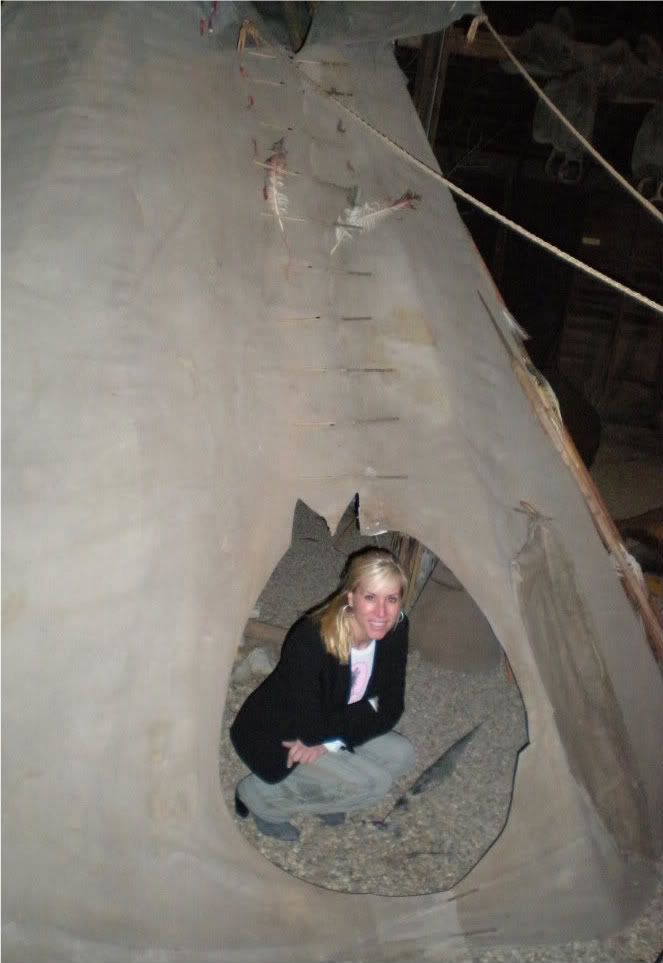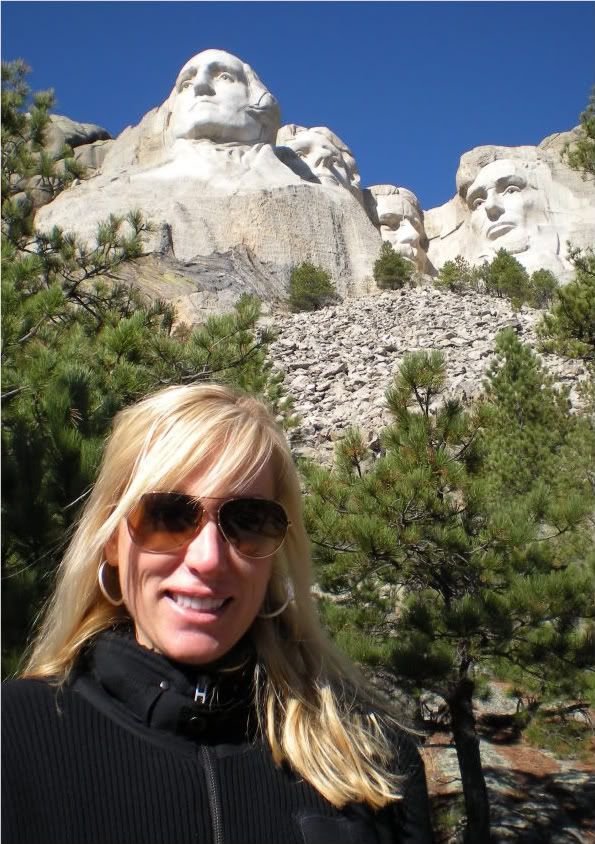 The next day we spent the morning and early afternoon at Mount Rushmore near Keystone, South Dakota in the Black Hills. Fantastic visual history... between October 4, 1927 and October 31, 1941, Gutzon Borglum and 400 workers sculpted the colossal 60 foot high carvings of U.S. Presidents George Washington, Thomas Jefferson, Theodore Roosevelt, and Abraham Lincoln to represent the first 150 years of American history. These presidents were selected by Borglum because of their role in preserving the Republic and expanding its territory. The grounds surrounding the National Park were beautiful - it was definitely a place to see!
After completing our tour around Mount Rushmore we were ready to continue westward towards California. We took the 90 West into Wyoming to the 25 South through Wyoming into Colorado and then finally onto the 70 West. This was a long day of driving but it was well worth it because the landscape was spectacular... you could see how the scenery was changing the further west we traveled. From city-scape to the flatlands of the midwest to the mountains in the pacific. Amazing! After making it through some tough terrain on the winding roads of Colorado at night we made it to Leadville, Colorado. Exhausted and happy to feel the comfort of a bed we both quickly drifted off to sleep.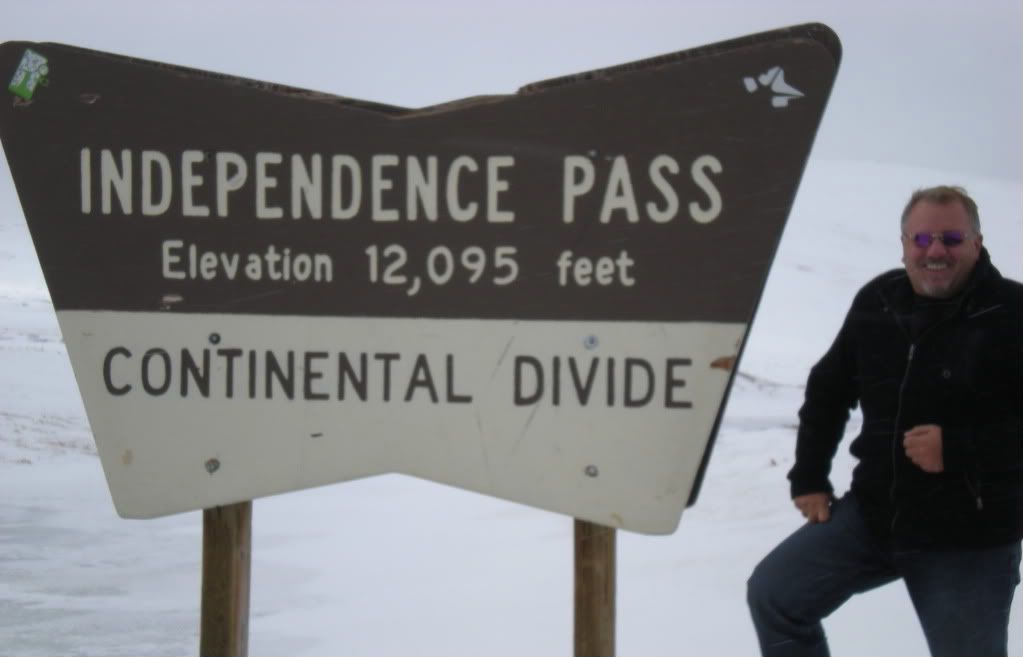 Rising the next day with the sun and the sight of the snow-capped Rocky Mountains in the background smiles lit our faces. We were ready to explore. We hopped in the car, turned on the tunes and proceeded on the 70 West again. Since we were so close to Aspen we decided to take a detour to visit this marvelous ski town. The GPS directed us to the 91 South to the 24 South to the 82 West into Aspen. The drive was so inspiring - everywhere you looked you felt like you were part of an Ansel Adams photograph. It was that beautiful! Too bad Rocky Mountain High by John Denver or Mountain Music by Alabama wasn't playing on the radio! On our way along the 82 we came to the Continental Divide at the top of Independence Pass in the central Rocky Mountains (12,095 feet). This is the highest paved pass in Colorado - at the center of one of the most spectacular stretches of road in the state, passing clear rivers, beautiful valleys, steep peaks, and extensive aspen forests. As you can imagine, at that elevation the weather was quite brutal. In such a short period of time we experienced the rather comfortable temperature of the valley to the blustery conditions on top of the mountain. We snapped some photos and moved on. We arrived in Aspen in time for lunch, a stroll around town, and browsing the shops. Such an inviting and quaint place! After a few hours it was time to continue driving. We made it to Grand Junction, Colorado where we spent the night.
We were now on the home stretch of our journey to California and ready for what the day was to bring. We continued on the 70 West into Utah. Once again, seeing the landscape slowly change from the mountainous region to more arid and desert-like was what made travelling by car so special. We stumbled upon a wonderful apple orchard where you could pick your own apples. The sun was shining and the sky was crystal blue - a picture perfect morning to wander around the orchard. After this mini excursion we were anxious to make our way to Arches National Park. Arches National Park preserves over 2,000 natural sandstone arches, like the world-famous Delicate Arch, as well as many other unusual rock formations. In some areas, the forces of nature have exposed millions of years of geologic history. The extraordinary features of the park create a landscape of contrasting colors, landforms and textures that is unlike any other in the world. We drove the park and in many spots along the way we parked, hiked, and took some amazing and unique pictures. It was well worth the visit! Tuckered out, hungry, and the stress of almost running out of gas - there wasn't a gas station anywhere in sight - it felt like we were on Mars - we got a room at the first hotel we spotted which just so happened to be the only exit that also had a gas station and a Denny's. Score!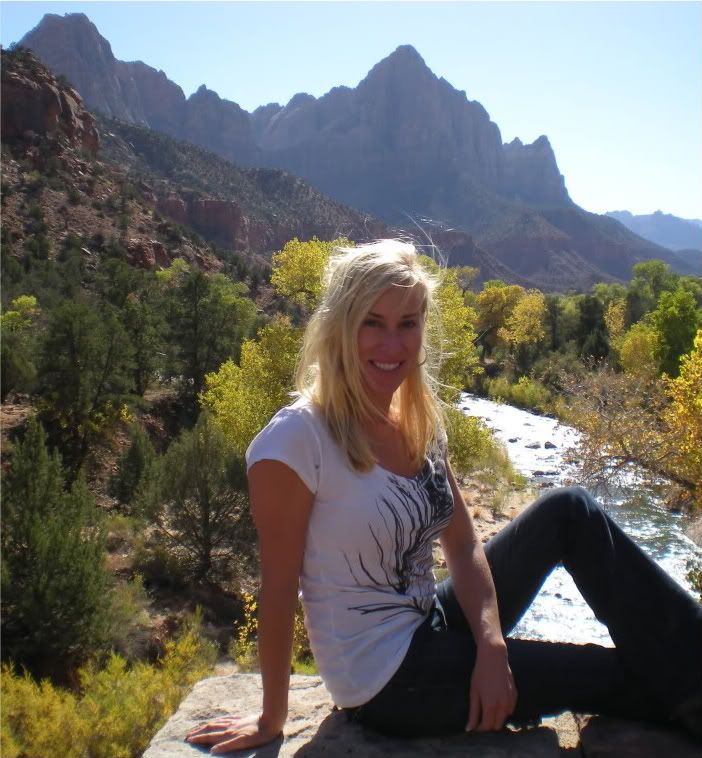 About 9 hours later, feeling pretty well rested and having a car full of gas we got back on the70 West. We stayed on the 70 through Utah then connected to the 15 South. We arrived at Zion National Park (Southwest corner of Utah) by early afternoon. Massive canyon walls ascend toward a brilliant blue sky. To experience Zion, you need to walk among the towering cliffs, or challenge your courage in a small narrow canyon. These unique sandstone cliffs range in color from cream, to pink, to red. They could be described as sand castles crowning desert canyons. It is a place made from the heavens! We spent all day enjoying the Park where the photo opportunities were abundant. If you ever have a chance, I highly recommend visiting Zion National Park! We exited Zion just as the sun was setting and stopped somewhere along the 15 not too far from Las Vegas. We originally thought we would make it all the way to Las Vegas but with the day's activities we were too tired. Tomorrow was another day.
Waking up in Nevada, we knew we were within hours of arriving into Los Angeles. Although we were quite anxious at this point to complete our journey, we did stop off in Las Vegas for a bit. We've both been there many times so we didn't stay long. Long enough to have lunch and try our hand at Lady Luck. By late afternoon we arrived in Los Angeles. By this point we had driven over 3,000 miles across the great U.S of A! I was very excited, anxious, and a bit overwhelmed with emotion. So many thoughts were flooding my mind. I was about to start a new beginning! To reinvent, revive, and rekindle my spirit. I kept reminding myself that life is a journey and not a destination and I was embarking on a new chapter in my journey - my life.
"All of life is a journey which paths we take, what we look back on, and what we look forward to is up to us. We determine our destination, what kind of road we will take to get there, and how happy we are when we get there."
"Life is not measured by the number of breaths we take, but by the moments that take our breath away."